The story of Tinkerbell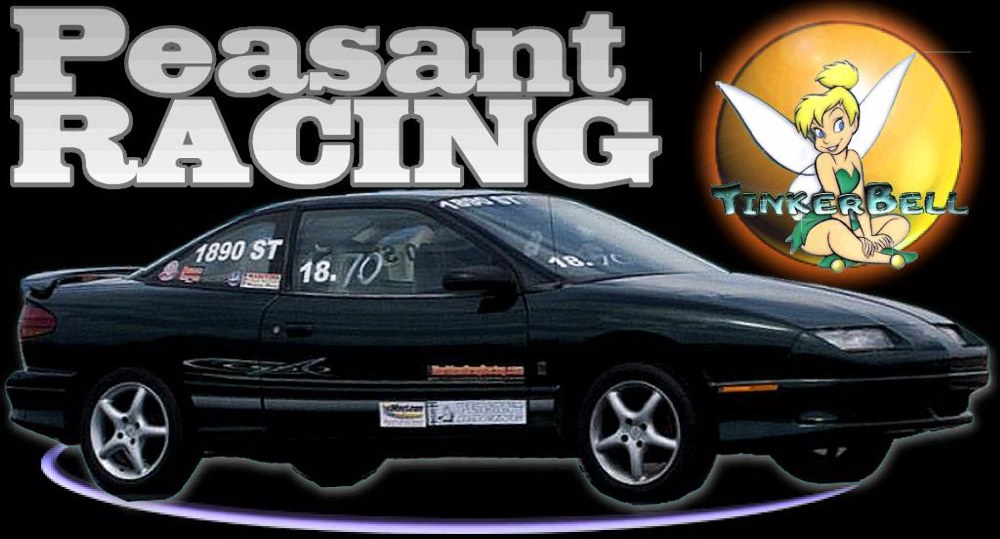 Drag Racing on a tiny budget with a cheap car and having fun doing it.
If you've been here before click
this link
for updates on our 2014 season.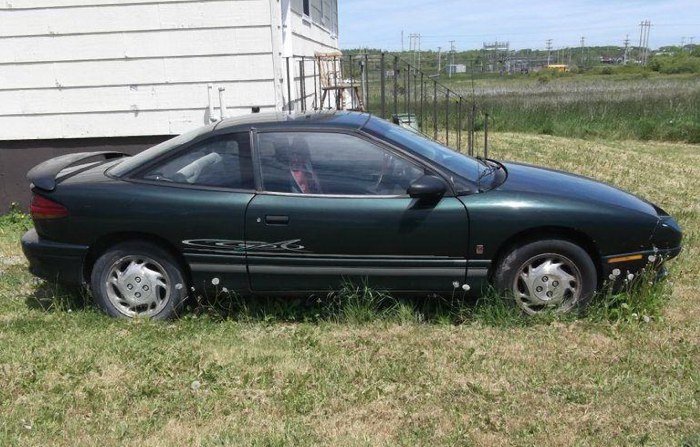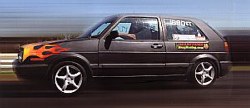 July 2012 - the Beginning
And this is where it all started - A blown engine on our VW Golf racecar had me scrambling around looking for a cheap replacement. Photo at left is from the local Kijiji website and price was listed at $450 but when I went to the house to see it I found out that the woman's father was a good friend of mine from my coal mining days. After a long chat about her dad she shocked the heck out of me by telling me she would sell it to me for the paltry sum of $175. Worked for me....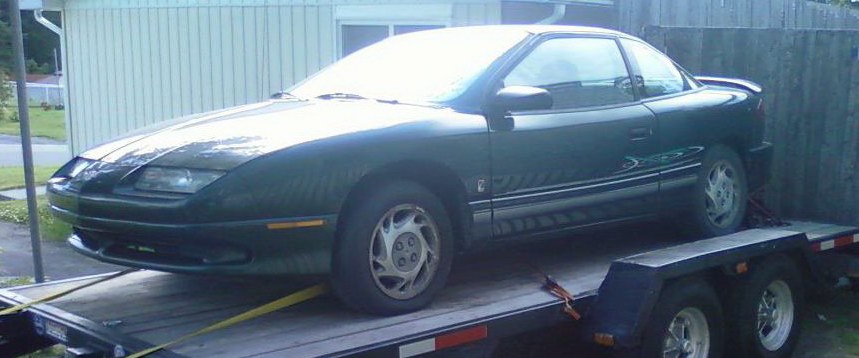 Home in the yard now - drove it on the trailer and actually had it up and down the street where I bought it a few times. Brakes are good, front end seems tight but there's a few minor things to do to it.
Seat covers
and floor mats had a Tinkerbell theme so my wife Marie immediately christened the car "Tinkerbell". At first all my racer pals got a kick out of a very large man racing a small and slow car named Tinkerbell but eventually enough of them lost to us during class eliminations or one of the many Gamblers Races we entered that first few events we went to that Tinkerbell became well known to the track announcers and every time we pulled up to the starting lane they always mentioned the name. It wasn't long before every little kid at the track had to come and see it. I was never fond of naming race cars but this time it was totally out of my control(Marie's fault).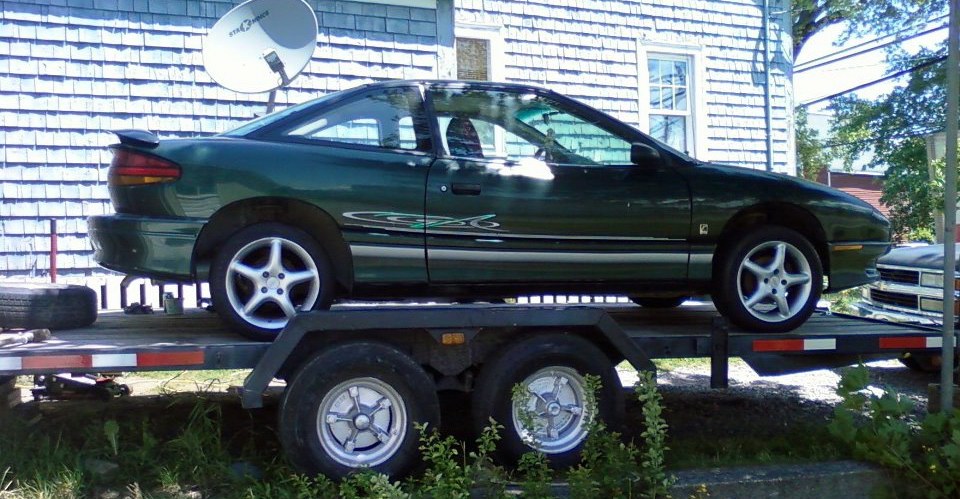 Looks better with a coat of
wax
and the wheels and tires off the VW. Amazing what a $6 can of Turtle Wax paste and a LOT of elbow grease will do. I think that's the first wax the car saw since 1996 LOL.
Some people get
auto detailing
and a wax job every few weeks but not Tinkerbell!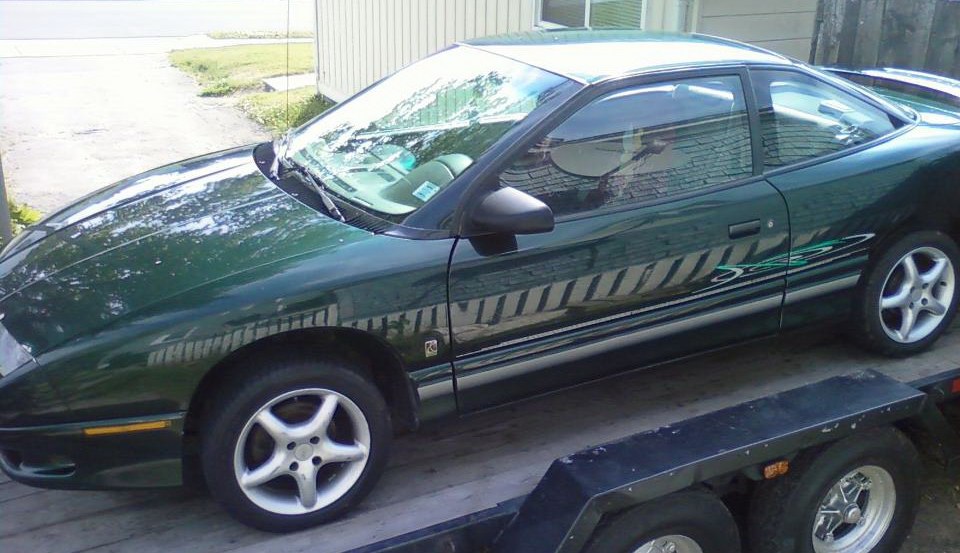 Hit the track with the car the third week of July 2012 at Cape Breton Dragway with some lettering and a few decals. Had some teething problems with alternator, wheel bearing and brakes but got them all straightened out by Sunday.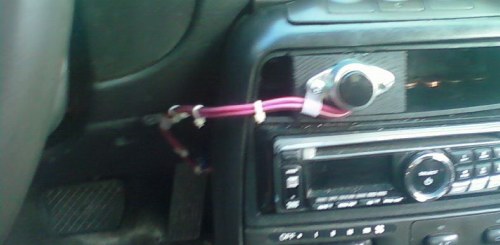 Gradually learned the car and started going rounds in August after I installed my trans(axle) brake - actually a line lock on the front wheels. Seemed logical that it would be easier to let go of a button than to lift my left foot off the brake pedal. Worked good but I had to watch my starting line RPM because the car crept through the beams a few times on me - a situation that we were to remedy in 2013 with an old Stock Eliminator trick(more on that later)

Waiting at Caribou, Nova Scotia for the ferry to Prince Edward Island on my way to the Atlantic Drag Racing Association "Team Race" - Qualified for that by finishing in fourth place in Cape Breton Dragway Points.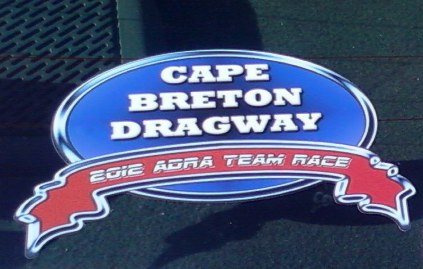 Got a cool decal but broke out in Team Race Sportsman class round two with an 18.42 on a 18.53 dial
then proceeded to run a 18.41 on that same 18.53 dial in the first round of "Box" Gamblers because I
forgot to change the dial-in.(DOH!!) That ends the 2012 season and time to put it away for the winter.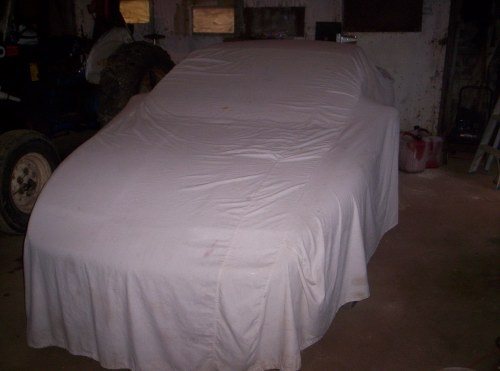 And this is how it spent that first winter - stashed away in the garage under a 2nd gen Camaro cover with a dead battery, rusty brake rotors and a little bit of skunky gas in the tank.
When it came time to get the car ready for the 2013 season it took a couple of days worth of maintenance to get it ready to race again and we had lost the "tune" the computer had remembered since the battery was flat and I swore "Never again!!" so this winter the car is sitting on jackstands on the trailer in the field and gets warmed up, run through the gears and the brakes applied enough times to keep the brake rotors shiny. The transmission gets warmed up, all the fluids get circulated and I even turn the wheel back and forth with it in high gear to keep the axle joints and boots in good shape.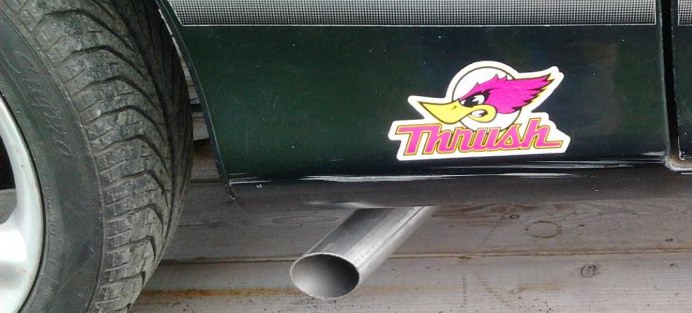 May 2013 - To get ready for the new racing season I replaced the entire stock(tiny at 1 1/2") exhaust system - catalytic convertor is gone, new 1 3/4" flex pipe from the manifold into a 2" Thrush glasspack then out a 2 1/4" pipe to a 2 1/2" mandrel bend and tailpipe that exits in front of the rear wheel. Sounds cool considering it's on a 100 HP Saturn - Hey, we might even have 103 or 104 HP now. Some of the older guys say it sounds like a Triumph or MG or some other old British sports car LOL.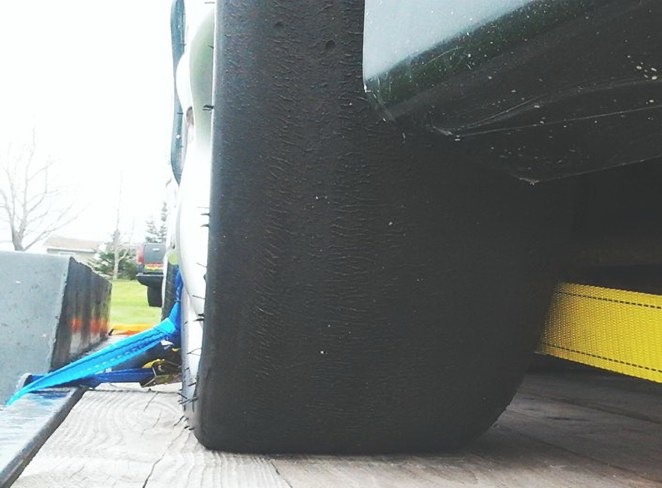 Another addition for this season was a set of like new 8"X22" M/T slicks. Lots of depth to the wear indicator holes and they still have the little knobbies on the sidewall. Should last forever on a car that can't spin them. The #1 reason for the addition of a pair of slicks was to allow the car to stage "in the groove" at our local track which has a policy that any car with street tires must stage to one side of the groove.
Unfortunately that put one wheel right in the middle between the tracks where all the oil drops and marbles accumulate and it made for a less than consistent launch almost every time. Sometimes the car would hook and other times it would spin. Since we put the slicks on the 60 foot times have been within .05 pretty well all season long.

2013 started off with a five hour tow in the driving rain and high winds to Greenfield Dragway,
Nova Scotia . Along the way we met up with my brother in a mall parking lot outside Halifax.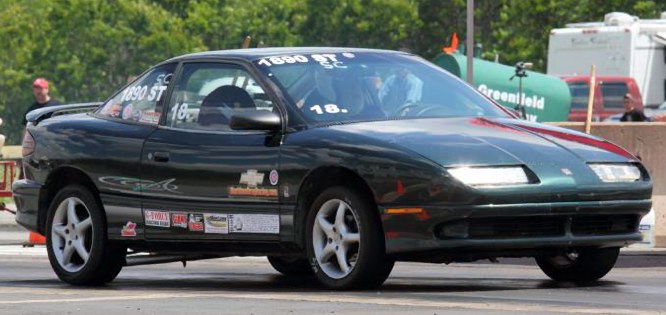 Greenfield Dragway was a total disaster. Entered both Sportsman and Sport Compact class and signed up for three Gamblers Racers on Saturday. Car worked good but had trouble with the trans(axle) brake holding on the starting line and the starter was acting up. Car crept the beams and redlit in the first round of Electronics Gamblers so I kept testing it as I was moving through the staging lanes the next few times I went up for a round. BIG MISTAKE!!! - too many hard stalls in a short time led to catastrophic failure and the engine locked up.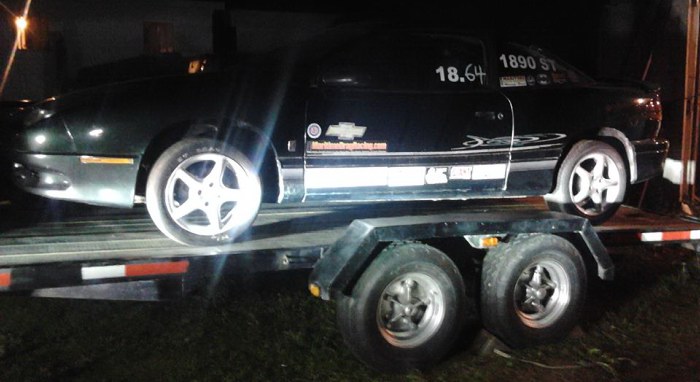 Dragged it back home and started the process of changing the engine for the one we took out of Saturn #2 - the tube chassis, small block Chev powered car we're building for S/Pro but that's another story for another time.
Four days later with the help of my brother Spencer and his friend Linden we managed to get the swap done and get the car loaded back on the trailer at 10:00PM the night before the first event here at Cape Breton Dragway.

First race of the year at Cape Breton Dragway June 21-23 we went two rounds in the Sportsman Class on Sunday but the real story was meeting my brother Spencer's Vega in the FINALS of the "Box" Gamblers race on Saturday. Didn't really care who won either so we both ran right out the back door where I broke out by .008. Trans(axle) brake bit me in the ass again - third round of eliminations on Sunday the car rolled the beams just when I got on the throttle as the tree was coming down. That was the point where I decided something had to be done about it before it cost me another round or another engine(like what happened in Greenfield)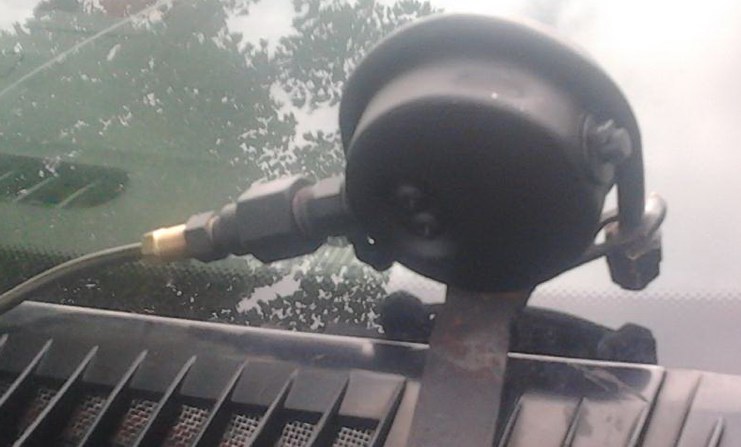 After the third round loss in the last event I had enough of the inconsistent staging so I used the old Stock Eliminator trick of mounting a brake pressure gauge on the cowl. Now I stage, push the brake HARD until I see 2000psi on the gauge, hit the button, shove the gas pedal to the floor and let go of the button just as the bottom yellow comes on. No more redlights and the brake pressure gauge is the biggest improvement to the car since I started racing it - it totally eliminated inconsistent staging and I discovered it helps at the finish line too(that was a "lightbulb" moment).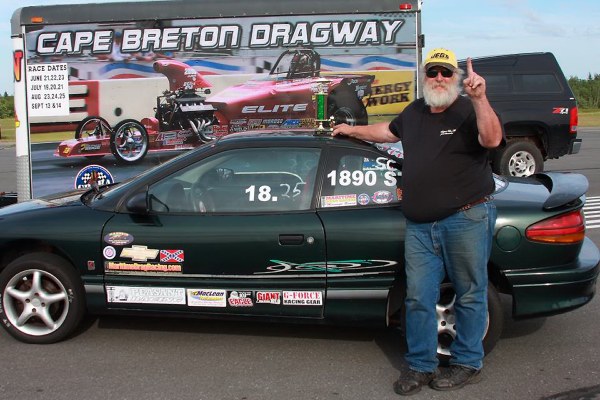 Next was the July ADRA event at Cape Breton Dragway where we went a couple of rounds on Saturday in both "Box" and "No Box" but the big story of the weekend was the win in the Sportsman class on Sunday and a huge jump in points. Even nabbed a couple of extra "Bounty Hunter" points for taking out the current ADRA points leader and the last Sportsman class winner at CB Dragway. This was my first "Class Win" since I returned to racing.
Since I "unretired" in 2009 I won one Gamblers race, runner-up in another one, runner-up in Sportsman twice and in the semi finals a half dozen times but this was the first class win in decades. Last one was in H/SA in the late 1970s and since there were only two cars in the H/SA class and the other guy redlighted I always felt like I didn't really earn it.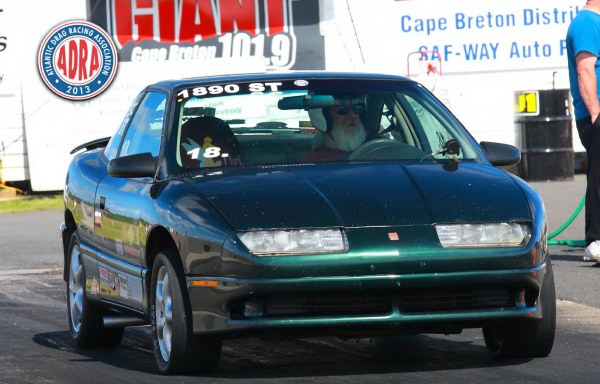 Next was the late August ADRA race here at home with a dumbass giveaway of the stripe in the first round and an immediate oath I swore to never hit the brake again at the finish line. As if that wasn't bad enough it all went downhill from there....Next event was Labour Day weekend at Raceway Park in Prince Edward Island. Landed there to a packed house on Friday and was looking forward to a weekend of racing. Saturday morning I was hit with a kidney stone attack so I packed up and headed for home without taking one run but I still got my 20 appearance points. To make a long story short I dodged two bullets that weekend. I passed the stone on the way home and the event got rained out on Sunday so nobody gained any ADRA points on me.
The second weekend in September the last event here at Cape Breton Dragway got rained out so I finished in 2nd place for the year in track points. Sept 28 I was sitting in 7th in ADRA points but counting only 4 events to everyone else's 5(the max) so all I had to do was hitch a ride to Miramichi Raceway, New Brunswick that weekend for the last ADRA event of the year and register my brother Spencer's truck to get 20 points and jump right into 5th place. Would have to get a couple round wins to nudge me up any further so I was happy even losing in the first round. 5th for the year gets me in the awards ceremony so that's cool. Best part of the weekend was watching Spencer sew up first place in the 9.90 class for the year with his Vega and helping my buddy Doug get his 7.40 dragster to the finals in Super/Pro.
Last race of the year was the ADRA Team Race at Greenfield Dragway Oct 5-6 so we thrashed nonstop to get the old truck ready for the trip and headed out for Greenfield on Friday 8:00AM and headed up route 4 on the south side of the Bras D'Or lakes. 45 minutes later I ran into road construction that slowed me down to 30 km/h for 10kms over a road surface that was like a cross between peanut butter and topsoil that put about 1/4" of mud all over the front of the trailer and the race car and turned both sides of the truck brown. After that mess I fought with a nasty crosswind right to left for an hour to the Canso Causeway that joins us to the mainland where the waves were coming right up on the road and the spray was so bad I had the wipers on high speed.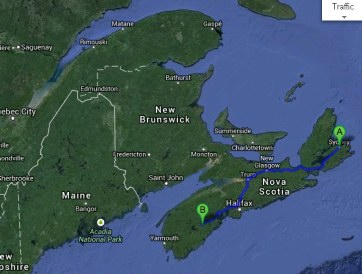 Now we're on mainland Nova Scotia fighting those crosswinds again and dropping to 2nd gear and crawing up the long hills because the moron in front of me won't go fast enough downhill for me to get a run at the uphill section coming up. Had to stop early for fuel in New Glasgow just to allow him to get way ahead of me. Eastern Nova Scotia is like that - all hills and valleys and very few flat stretches of road except for the 102 South but I only had an hour or so on that road dodging morons, texters and people who have no idea where the corners of their cars are(long story-don't ask) before I started down the south shore and even more of those damn hills.
Landed at Greenfield Dragway after 7 scary hours on the road and claimed a ton of pit spaces for Team Cape Breton right across from the Tech shack and directly behind the food trucks and grandstands. Managed to get a couple of time trials in Friday night and while the car was exactly where it should have been the driver struggled with the tree - late in the right lane, red in the left then went back up to try changing my spot on the tree but got sent back to the pits because it was "officially past sunset"... Packed up and headed back to my brother Spencer's for the night with him and my nephew Connor which was another hour and a half drive. Not bad considering it was a half hour's drive to the nearest motels which all were booked solid anyway.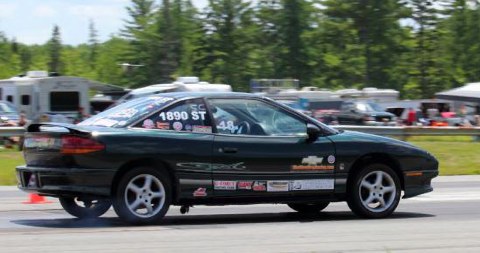 Saturday morning Spencer, Connor and I made the trip back to Greenfield and we managed to get two time trials in the morning before the Team Race started. Again the car was perfect and the driver even managed a couple of decent lights in both lanes so I figured we would enter the Box, No Box and Sport Compact Gamblers races and walked over to the Race Director's motorhome to register for all three. SURPRISE!! Since I was in the ADRA Team Race I was only allowed to register for the Gamblers Races if I LOST in round one of the Team Race. OK, Then I figured maybe I might get put out by one of the ADRA heavy hitters like Sportsman champ Mike`Ingram and I could sign up after that. SURPRISE!! I get a bye in round one so the Gamblers Races are out of the question. Car is exactly where it should be and even a decent light again even though it was a single. SURPRISE!! Who do I get in round 2 but Mike Ingram but even though he had a much better light Tinkerbell decided she would go a 18.190 on a 18.18 dial out the back door and erase his advantage at the tree. Due to the way the ladder was set up I wound up against another CB Dragway team car in round three but forced him to break out with an 18.16 on a 18.15 dial and a .520 light. Sucked to put a fellow team member out but it got me to the finals.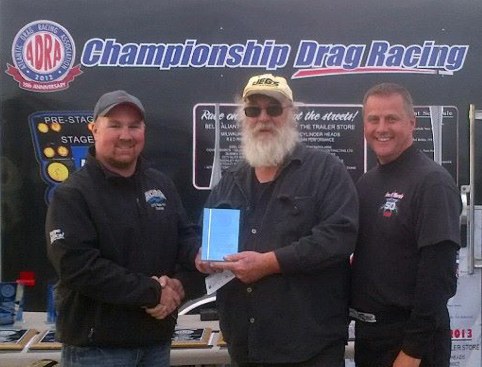 In the finals I drew Miramichi Raceway New Brunswick's #1 seed and even though I had a better light poor little Tinkerbell didn't have enough fuel in the tank to work properly and coughed once on launch then laid down when it shifted into 3rd and slowed by over two tenths over the previous round and ended our day. Note to self - LOOK AT THE GAS GAUGE MORE OFTEN!!! Still managed to take home a certificate, a trophy, a cheque for $100 and decent bragging rights for the year. This weekend we got revenge for the blown engine on our first visit there back in June.
All in all a good year. Couple of wins in the Budweiser East Coast Practice Tree Nationals in February, runner-up to brother Spencer in a Box Gamblers race, an ADRA Class Win, 2nd in Cape Breton Dragway points, 5th in ADRA points, 2nd in the Team Race, a shelf full of trophies and almost $1500 in winnings.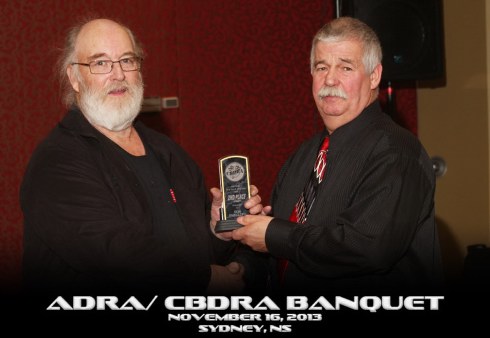 For the complete story from day one
CLICK HERE
to go to the top of the page.
June 20-22 at Cape Breton Dragway
First time out was the weekend of June 20-21-22 at Cape Breton Dragway. On the first time trial Friday night there was a bad vibration when I hit the brakes at the finish line. When we got back to the pits I parked it and decided to have a look at it early on Saturday.

Delaminated brake shoes? Both annoying and scary.

New shoes at Canadian Tire? $33.00 tax included.

Having a brother who's a Saturn expert? Priceless.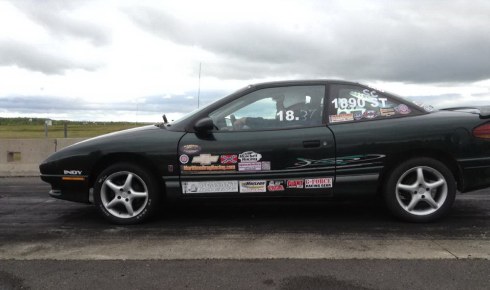 After that the car slowed a few tenths every pass during the Saturday morning time trials so Spencer put his scanner on it and cleared the codes. Car immediately went back to where it should have been. Signed up for both Box and No Box Gamblers Race on Saturday and went a couple of rounds even taking out my poor buddy Doug's 7.47 dragster(again). Lost in the second round of No Box with a .499 red(DOH!!) and broke out in the second round of Box when the Saturn decided to run almost two tenths under(18.06 on a 18.25 dial) even though I was HARD on the brakes long before the stripe and scrubbed off almost 15 mph from the previous run. A look at the time card intervals showed the quickest ever 60 foot, 1/8 mile and 990 foot times the car ever went so I wondered where the hell did that come from?

Sunday was one of those good day/bad day things. First round of Sportsman class was a breakout loss with an 18.12 on an 18.30 dial while HARD on the brakes. Going to blame that loss on the idiot that put the dial-in on the window LOL. Best part of the day was the class win in the first ever Sport Compact class race at Cape Breton Dragway even though I was the only one in the class. Rumour has it the few "tuner" guys that were there got spooked by Tinkerbell's reputation and stayed in the Sportsman class but I find that a little hard to believe.
Turns out the inconsistency over the weekend would be traced to a random misfire we found at the July race.
July 17-20 Atlantic Drag Racing Association
Points Meet at Cape Breton Dragway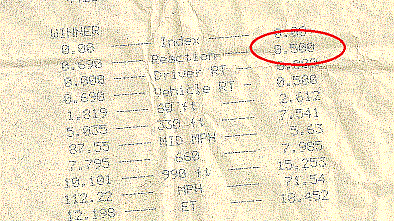 Rolled the car off the trailer at the Thursday night Test and Tune session and hit a perfect light (.500) the first pass down the track. Seemed like a good excuse to park the car for the rest of the night so I just wandered around the pits for an hour or so before I headed home.
Friday morning the car started slowing down more and more every run so we hooked up the scanner again and found a "random misfire" code. A little inspection found a corroded plug wire and once that was cleaned up the car went back to it's usual self with every run between 18.08 and 18.18 despite the shifting winds.
Saturday my brother Spencer gets runner-up in the 9.90 Atlantic Pro Tree Series which puts him solidly in third in points, I got treed(.503 to my .599) in the first round of No Box against a 10.30 motorcycle. Round one of Box it was a .447 red light against my cousin Gordon Ferguson(a 9.90 bike).

Sunday morning pic from the pits with my brother Spencer's Vega, Tinkerbell and my nephew Connor's Saturn SC-2. Besides being a few years newer his Saturn has an extra camshaft, an extra pedal and 25 more HP than poor Tinkerbell which worked out to about 4 tenths and 4 MPH on both of the runs we made together.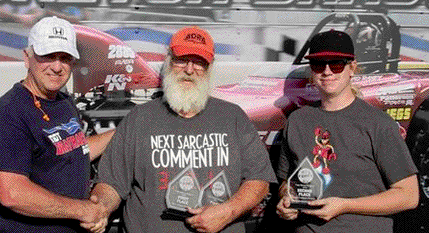 Sunday was a "sort of" good day at Cape Breton Dragway. Went a couple rounds in Sportsman class and got the second straight win in Sport Compact. My nephew Connor got the runner-up spot and both of us took out two of Greenfield Dragway's top ranked Sport Compact racers in round one. Part of the swag was a cool hat, a win decal for Tinkerbell's back window and two first place trophies - one they owed me from the June race. Got a good lead now in both the CB Dragway and ADRA points series and probably a guaranteed spot in the ADRA Team Race at the end of the season.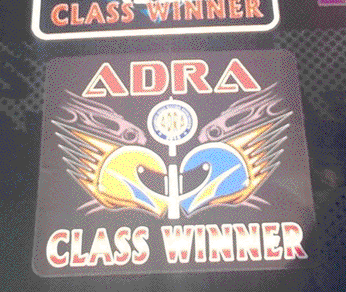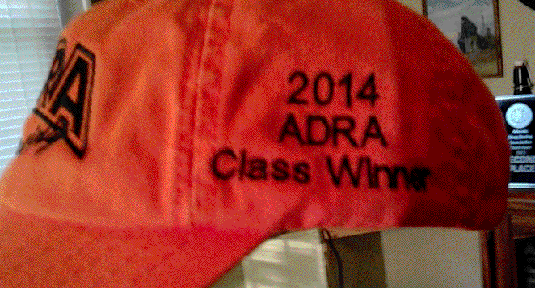 Next event is a Big Buck$ Bracket Bash at Greenfield Dragway on August 16. It might be a seven hour tow from here but it's a chance to win big $$ and even quarter final losers get enough to cover most of their travel expenses.
UPDATE: That one will go in the logbook as the "Weekend from Hell" - Scary drive to Greenfield in torrential rain with people trying to put me off the road then no sleep Friday night and a sore back completely ruined my concentration on Saturday. Mis-dialed the car, broke out, gave one run away then forgot to let go of the transaxle brake until after I saw the green on another run. Packed it in early on Sunday and headed for home because of rain in the forecast and sure enough the event got washed out around noon. Had an uneventful drive home and then only had a few days off before the next event at Cape Breton Dragway on August 22-24.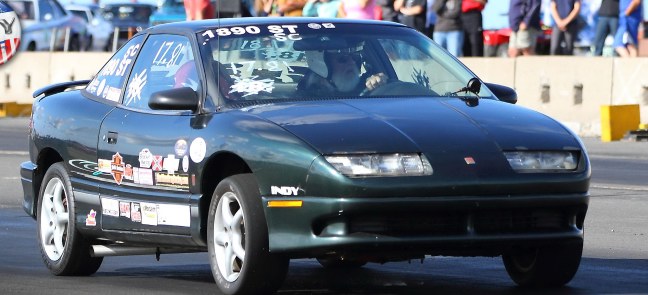 Good cool air and a tailwind at Cape Breton Dragway's Test and Tune session on Friday got Tinkerbell her best to date ET and MPH of 17.802@76.02. Made six runs within .09 with a best light of .501 and a worst light of .574 and ZERO redlights. Went a couple of rounds in both Box and No Box on Saturday and won the Sport Compact class again on Sunday but went out in round three in the Sportsman class. Car was solidly in the 17.90s the whole weekend and at one point I had to cover the "18" with dial-in marker and write the 17 second dial above it.
Labour Day Weekend Spencer and I left here in a mini convoy 7:00AM Friday heading for Raceway Park, Prince Edward Island and ran into two construction delays before we even got off the Island. Landed at the Ferry terminal in what we thought was plenty of time for the 11:00 AM crossing but the parking lot was full of cars heading for the Shania Twain concert in Charlottetown and we had to wait for the next ferry at 1:00PM. Battled a wicked headwind all the way across Prince Edward Island to Raceway Park then had to park our rigs waaay up by the return road turnoff because the place was packed to the rafters with race cars. This required a 700 foot ride on the bike to the time card booth and another 700 feet back to our pit spaces.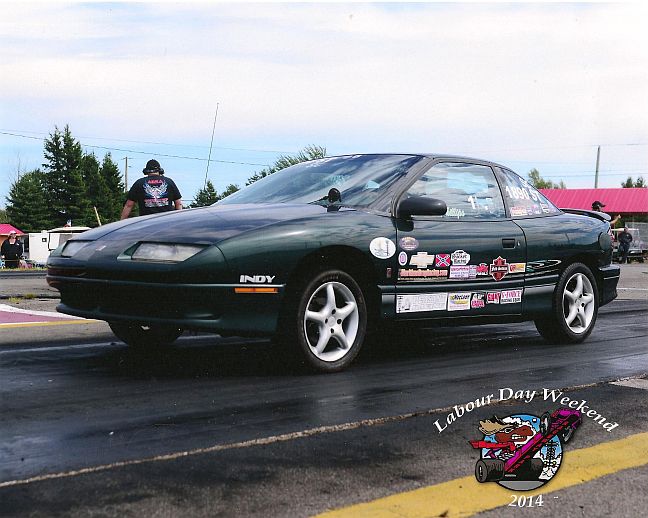 Had some issues with muscle spasms on Friday night but actually got a few hours sleep on my new air bed in Spencer's trailer. Saturday was all 1/8 mile and we got two time trials before I got into Box and No Box Gamblers Racing and Spencer ran his Pro Tree Series. Went two rounds in No Box until I mis-judged the weather conditions and got the dial-in wrong. In Box class I was a little low on gas so we added a couple of gallons in the staging lanes but in the rush to put fuel in the car while I was still in the car one of the "helping hands" in the staging lanes put the gas cap on too tight and broke it. I didn't know this had happened so I went up, staged and as I let go of the transaxle brake button the car died for a second, picked up then died again a couple more times before I got to the return road. Back to the pits and discovered the broken gas cap after Spencer plugged in his scanner. I had no idea that something that simple could screw up the car's little pea brain LOL. If you look closely at this pic you can see the gas door was not closed properly either . Anyhow, put the cap off the truck on it and we're all good again. A little socializing through the evening then back to the trailer around 10:30PM where I slept like a log until 6:30AM.
Sunday we were back to 1/4 mile racing and since the engines are not allowed to be fired until the church up the road is finished with it's service around 11:00AM so I only got one time trial then my qualifier in Sportsman Class. I earned a first round bye run freebie in Sportsman class but three horrendous oildowns in S/Pro delayed it enough I had to head for the ferry so I would not miss the 6:15PM crossing I had reserved and paid for a few days ago. SURPRISE!! After an hour and a half drive from the track I'm sitting at the ferry terminal in Wood Islands waiting for the 6:15 crossing and I hear it's cancelled due to mechanical problems with the ferry and the next one is not until 8:00PM. Landed back in Nova Scotia around 9:30 and headed for home in the rain and heavy traffic. I absolutely hate driving at night now - those bluish white headlights on some cars blind me to my position in my lane and in those spots on old Route 4 where the construction was on Friday was like trying to negotiate a minefield of potholes, gravel. mud, broken pavement, traffic cones and big rocks. Landed home around 1:00AM, soaked in the tub for a half hour then fell into bed and passed out until almost 8:00 the next morning. In spite of it all I think it was still a good weekend.
LAST WEEKEND OF THE YEAR: Cape Breton Dragway Friday Sept 12 Test and Tune - Throttle position sensor on the Saturn is toast. Stalled twice on the starting line and wouldn't idle right. Good thing there was a spare one in the back seat of the truck. Saturday morning swapped out the throttle position sensor on the Saturn then proceeded to run the quickest and fastest pass ever(17.63 @ 76.23 mph). After that it all turned to crap - Went one round in both Box and No Box before the it started laying down between 3000-4000 RPM and not always in the same gear or at the same point on the tach then the trans filter blew on the last run of the day.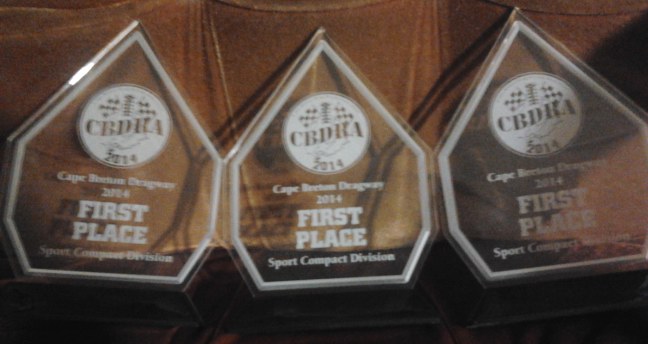 Sunday was rained out at CB Dragway - Finished 5th in points - Done for the year - Budget is all gone - Car has a weird bug - Truck and trailer performed flawlessly all year. Last year the car was great but the driver sucked - this year no serious driver errors but the car kept screwing up. I guess that's just racing.......
Best part of the year was not losing even one round in the Sport Compact class and taking three out of the three events at Cape Breton Dragway.
2015 might possibly be the last year for little Tinkerbell in the slow classes. After a lot of email tag with the IHRA Tech dept we finally got the car approved for the SS/GT class with a small block Chev under the hood. It will get either a 283/220 or 327/275 and a powerglide.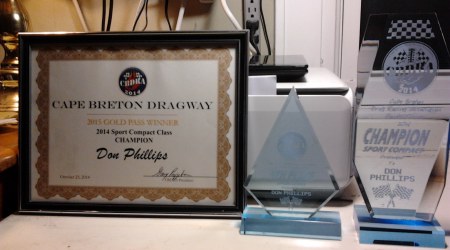 UPDATE: Oct 25, 2014 - Got lots of goodies at the Cape Breton Dragway awards banquet - 5th place in Sportsman, 1st place in Sport Compact and a "Gold Card" that covers the 2015 season entry fees. Best award of all will come Monday October 27 when little Tinkerbell's story will be featured on Racers |Reunion Radio.
UPDATE: Nov 14, 2014 - another trophy and a framed photo from the ADRA Awards Banquet
for finishing 3rd in ADRA Points for the year. Top two were from Greenfield Dragway.
For the complete story from day one
CLICK HERE
to go to the top of the page.